Founding of Green Island Cement (1886-1887)
Green Island Cement (GIC) is the oldest established cement company in Asia having first commenced business in Macau in May 11, 1886, when His Excellency Tomas de Sousa Rosa, Governor of the Province of Macau and Timor, granted a license to solicitor Creasy Ewens of Hong Kong to establish a cement factory in Ilha Verde, or Green Island.
The factory site was conveniently close to the Inner Harbor where barges brought in limestone from neighboring Kwantung Province and loaded cement for export to China.
Green Island Cement's early years in Hong Kong were as turbulent as the times. The company was established in January 3, 1887 with a factory on the kowloon coast in what was then little known border territory.
Early Development in Hong Kong (1900s - 1930s)
In 1900, the Hok Un plant was established at the Hok Un site which (was constituted from three Marine Lots) was leased from the HK Government and reclaimed by GIC. GIC won several major projects in early 1900 and its rotary kilns had been so successful.
GIC's another new plant in Hok Un was completed in 1931 with equipment which was the most advanced of its time.
The annual capacity of the plant was 100,000 tons of Portland cement (compared with 9,000 at the old plant), plus 15,000 tons of the newly introduced fast-hardening Emeralcrete. However it was to be seven years before the production came close to this capacity. For many years the company flourished but in the early 1930's the authorities in Canton placed an embargo on imported cement and with its major source of revenue lost, Green Island Cement was forced in 1936 to close its Macau factory.
Hok Un Plant in 1900
During the Sino-Japanese War (1940s - 1960s)
The plant had been closed in early 1940s during the Second Sino-Japanese War and was reopened in 1943. The business was recovered and profit was recorded in 1948.
Growth and Merging with China Cement (1970s-1990s)
In 1970s, the company had established a depot at Sai Wan Kennedy Town for packaging and storing cement. It was so amazing that a cement silo was completely hidden inside the building (in the right hand side of the picture below).
Depot in Sai Wan Kennedy Town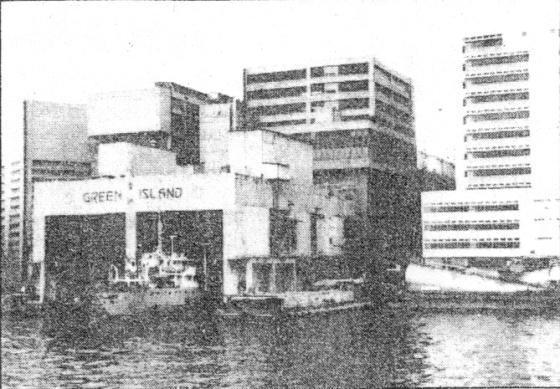 Green Island Cement's Jetty
Green Island Cement reaffirms its faith in the future of Hong Kong with the completion of its new Hok Un Plant in 1983 and looks forward to ever growing prosperity for the entire community.
The new plant is extremely compact and has then world's highest ratio of production to land use in that time.
Hok Un Plant
In 1982, Tap Shek Kok plant had been constructed and started up early next year.
Years later, GIC had been merged with China Cement and the operation had been moved to TSK.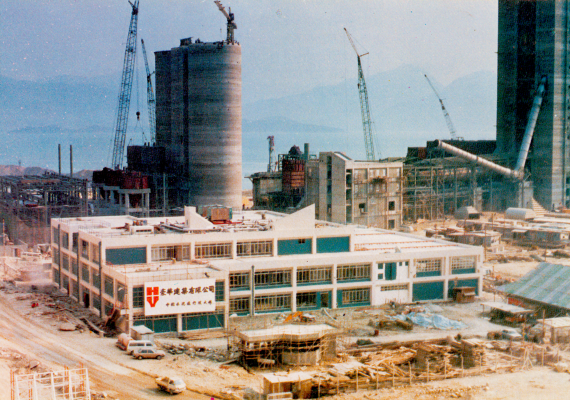 TSK plant under construction, in around 1982
Miss something in the new website? Try the old website here.