To achieve high efficiency production, we collaborate with industry partners to turn waste to material and convert waste to energy, hence reducing our reliance on natural resources. We optimize our process to save energy and reduce emissions. We adopt a risk-based reliability maintenance strategy to improve the reliability of our production lines.
為達致高效生產,我們與其他業界夥伴合作,積極「轉廢為材」及「轉廢為能」,減少我們對天然資源的依賴。我們透過持續改善生產工藝,實現節能減排,並通過風險為本的維修策略,提高生產線的可靠性。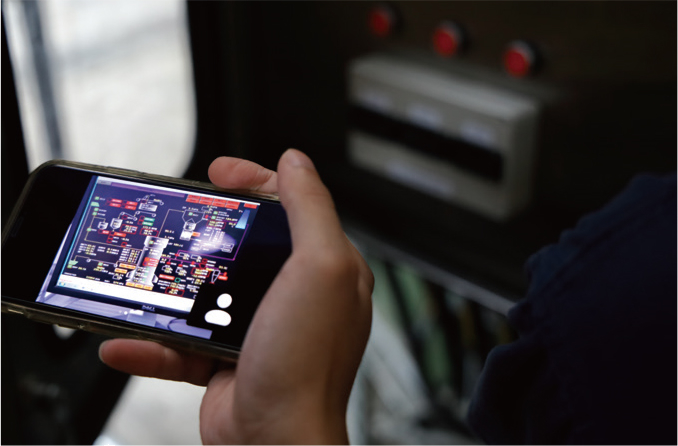 Using Typhoon Yard Waste as an Energy Source
利用颱風園林廢物作為能源
The use of cement substitutes is a common practice throughout the global cement industry. Another common methodology to reducing emissions in cement production is from using alternative fuels, such as biomass and other waste materials. We have always considered alternative fuel use a win-win solution as it increases our profitability and enhances competitiveness while reducing our carbon footprint.
使用水泥替代物料在全球水泥行業是很常見的做法。為減少水泥生產所造成的排放物,使用替代燃料例如生物質和其他廢料等也是十分普遍。我們一直認為使用替代燃料是個雙贏方案,既可提升盈利能力及競爭力,又可減少碳足跡。
Despite prevalence in other countries, in Hong Kong, it is an unusual practice for a cement company to target locally available waste. To demonstrate the environmental and economic value, we conducted a trial burn programme of wood derived fuel to prove how GIC can collaborate with local waste management groups and resolve the waste problem of Hong Kong in a responsible and accountable manner. Under a special permit granted by the EPD in October 2018 and after Typhoon Mangkhut, approximately 263 tonnes of fallen trees and twigs were collected and burned in our plant as an alternative energy source in 2018.
水泥公司利用當地廢物作為生產物料在其他國家均非常普遍,但在香港卻是不多見的。為對廢棄木材創造環境及經濟價值,我們與本地廢物管理公司合作,進行了試驗燃燒計劃,展示出我們對解決香港廢物問題的承擔。在2018年10月取得環保署的特別許可後,我們在2018年收集了約263公噸因颱風「山竹」所造成的塌樹斷枝,並在廠內將其轉作替代能源使用。
The trial burn exercise has proven to be successful in showcasing our capacity for providing a high-quality standard of cement that diverts waste from landfill and incinerators and has minimal emissions.
上述試驗燃燒計劃成功展現我們的實力,不單為客戶提供優質水泥,亦處理了原應運到堆填區或焚化爐的廢物,所產生的排放亦很輕微。
Using Waste Glass Bottles as Raw Material
利用廢玻璃樽作為原材料
Hong Kong residents and companies use a lot of glass for food and beverage needs, and despite being endlessly 100% recyclable, without loss in quality or purity, very little of it is recycled. Always thinking resourcefully, in 2017, we saw an opportunity to help divert Hong Kong's waste glass from landfill by using glass cullet as an additive during cement production. The glass cullet replaces between 1-2% of clinker and in 2018 we handled 3,560 tonnes, which is equivalent to around 2,500 tonnes in CO2 reduction while also diverting nearly 1,000 metric tonnes of glass from going to landfill every month. We target to convert around 16,000 tonnes annually (i.e. 1% of our clinker dosage) however achieving this goal is subject to the availability of glass supply and the logistics of working with waste glass collection service providers. The EPD supports this initiative as it is considered a viable solution that both diverts waste and reduces CO2 emission.
香港市民及企業均使用大量玻璃容器盛載食物和飲品。儘管玻璃物料可以不斷百分百循環再造而其質素及純度不會受到影響,但實際卻很少被回收再用。有見及此,我們於2017年抓緊機會,在水泥生產過程中利用碎玻璃作為輔助材料,藉此減少廢玻璃被運往堆填區。碎玻璃能取代1-2%的熟料,我們於2018年處理了3,560公噸碎玻璃,相當於減少約2,500公噸二氧化碳排放,在運作期間,每月轉移約1,000公噸原本要運往堆填區棄置的玻璃。我們的目標是每年處理約16,000公噸廢玻璃(相當於熟料用量的1%),但能否達標取決於廢玻璃的供應及公司與廢玻璃回收服務商之間的物流安排。環保署亦很支持這個計劃,並視之為一個有助廢物分流處理和減少二氧化碳排放的可行方案。